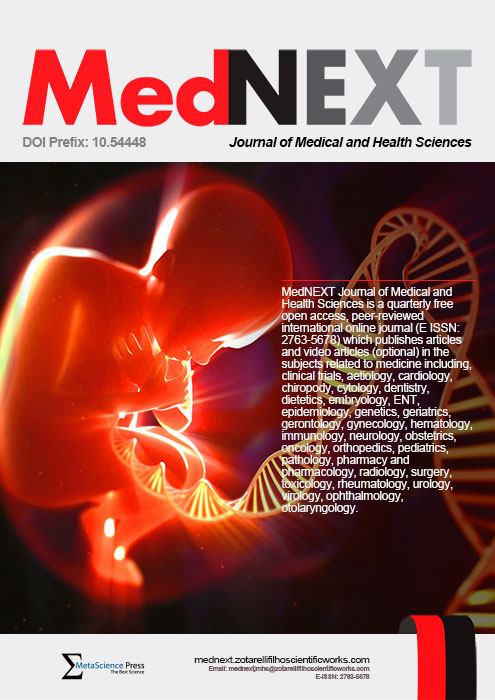 Aim & Scope
MedNEXT Journal of Medical and Health Sciences is a quarterly free open access, peer-reviewed international online journal (E ISSN: 2763-5678) which publishes articles and video articles (optional) in the subjects related to medicine including, clinical trials, aetiology, cardiology, chiropody, cytology, dentistry, dietetics, embryology, ENT, epidemiology, genetics, geriatrics, gerontology, gynecology, hematology, immunology, neurology, obstetrics, oncology, orthopedics, pediatrics, pathology, pharmacy and pharmacology, radiology, surgery, toxicology, rheumatology, urology, virology, ophthalmology, otolaryngology.
Moreover, alternative medicine, nursing and allied health sciences, veterinary science, teaching/education methods in medical sciences and artificial intelligence in medicine and health sciences are also welcome. Other interdisciplinary perspectives to integrate the field of medical and health sciences are also encouraged.
The journal publishes four issues per year. All the accepted articles will be indexed in Google Scholar and Crossref. A unique DOI number and a Cross mark will also be given to the articles.
Journal Description
Title: MedNEXT Journal of Medical and Health Sciences
E-ISSN: 2763-5678
Journal Abbreviation: MedNEXT J Med Health Sci
Publication language: English
Publishing frequency: Quarterly (February, May, August, November)
DOI Prefix: 10.54448